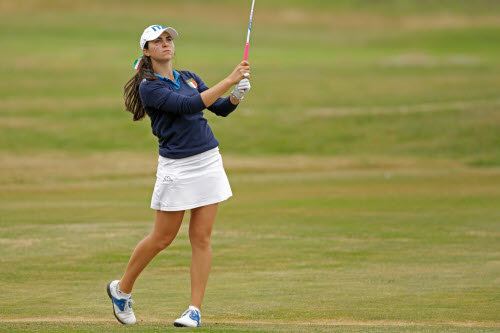 Recap: European Girls' Team Championship Day 1 Stroke play
Italy out in front after day one
The Italian team had a good first day at the European Girls' Team Championship. All six players managed tough scoring condition and turn in scores between 71 and 75 shoots on a day when scores were high.
The Masters Course at Forsgårdens Golf Club turn out to be a tough test. It played hard, fast and the greens were running fast and true and when the wind picked up during midday it took some golf to turn in a below par scorecard.
Sarah Hricikova from Czech Republic did more than shoot below par. A round that contained eight birdies and three bogeys for a total score of 67 made her new course record holder at the Masters Course at Forsgården.
We also had a hole-in-one on the first day of plat, it was Amalie Leth-Nissen from Denmark who holed out with her six-iron at the 17th.
In the team standings Italy is at nine under par and is two shoots clear of Spain and in third place sits host and defending champion Sweden along with Germany.
Tomorrow it´s all the same as today, 18 holes of stroke play and the team counts five out of six scores. After the second round the top eight teams moves on to play for the championship and medals in a knock-out team match play format.
But it´s a lot of golf to be played before we move on to match play.
Standings after round 1
1. Italy +7
2. Spain +9
t3. Sweden +10
t3. Germany +10
5. Czech Rep. +12
6. Netherlands +17
7. Denmark +18
8. Ireland +19
-------------------------------------------
9. England +21
t10. France +22
t10. Switzerland +22
12. Norway +25
13. Scotland +26
14. Austria +28
15. Finland +30
16. Wales +31
17. Belgium +40
18. Slovakia +50
19. Iceland +69
Team standings
https://www.golfbox.dk/livescoring/tour/?language=2057#/competition/1644742/results
Live scoring.
https://www.golfbox.dk/livescoring/tour/?language=2057#/competition/1644742/leaderboard

Pictures
All images are free to use both on web, social media and in print in relation to reports or posts related to this championship. Images to be credited to Goran Soderqvist.

Picture from day 1 stroke play to be found here.
https://www.flickr.com/photos/goranphoto/albums/72157693092635060
The Format
The championship is played over five days. The first two rounds are stroke play qualifying were each team plays six players counting five scores as the team score.
After two rounds the top eight teams goes on to play for the championship in match play. The stroke play will determine the seeded order for the match play with 1 vs 8, 2 vs 7, 3 vs 6 and 4 vs 5.
The other teams that did not made the championship rounds plays on as well. They are playing for places and pride; this part is also decided in match play.
About the venue
Forsgården Golf Club there are 27 beautiful holes of golf situated only five minutes by car from the center of Kungsbacka. The 2018 European Girls' Team Championship will be played on the Masters Course, a parkland golf course and host venue of the Scandinavian Masters on the European Tour in 1993 and 1996.

About golf in Sweden
Sweden have 457 Golf Clubs. These golf clubs have 468.570 golfers as members and they are also registered to the Swedish Golf Federation. In 2017 6.962.000 rounds of golf were booked in Sweden, 33 073 new memberships were signed to Swedish Golf Clubs and the net growth of players were 4.618.

Sweden is a contender where ever there are golf being played. Six different Swedish players have major championships to their credit with a total 16 major championships. Swedish players also have 116 wins on the LPGA, 87 wins on the LET, 26 wins on the PGA Tour and 110 wins on the European Tour.
Fler nyheter