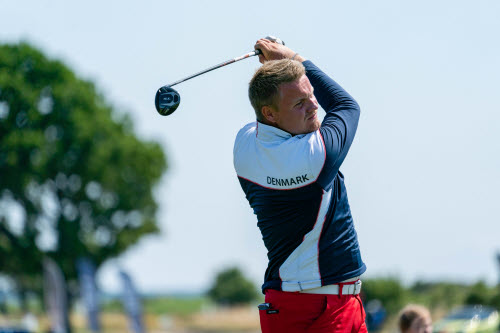 Denmark caught Ireland by surprise
Not many had bet a penny on it, but Denmark defeated Ireland in the quarterfinal of the European Amateur Team Championship Thursday at Ljunghusen GC in the very south of Sweden – and are now taking on Sweden in a derby semi-final Friday.
Ireland impressed during the qualification Tuesday and Wednesday, performed brilliant under windy conditions and ended up in first place.
Denmark qualified on the very last hole for the A flight, after a double bogey by a Frenchman on the 18th hole.
Thursday morning, the wind calmed down, and the conditions were more like an ordinary Swedish summer day.
Denmark started strong and won the two foursome matches before lunch. What the Irish had for lunch we don´t know, but they came out as a whole new team and won the first two singles. At that moment many of us thought this would be a win for the Irish, but the Danes didn't give up. Alexander Frances delivered the winning putt for The Land of Lego, and were a bit surprised himself when giving an interview after the round:
" They (Ireland) absolute beat us to peace in the qualifying. We knew we were underdogs, we had a chip on our shoulder and just kept on going. An amazing feeling to win, especially as you are playing for your teammates as well."
In the semi-final, Denmark is facing Sweden, a derby match, especially down at Ljunghusen, just a few kilo meters from the bridge over to Denmark.
"Very exciting! It´s been a lot of people out there watching Sweden against Germany today, so I´m looking forward to it." the Danish hero says.
There is a derby in the other semi-final as well: England-Scotland.
Thomas Björn
Press Officer
Fler nyheter