Stenson Sunesson Junior Challenge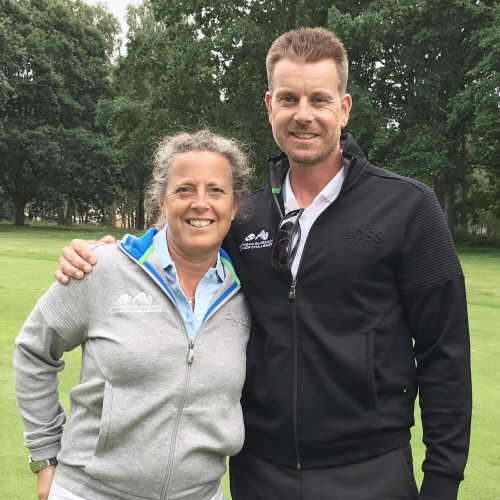 Henrik Stenson and Fanny Sunesson was a successful team on the golf course during many years. Now, the duo invites the best junior players in the Nordic countries to play in the Stenson Sunesson Junior Challenge at Barsebäck Golf & Country Club, 4-6 July 2018 with practice round on the 2nd and special activities on the 3rd.
In 1989 the world's best player, Nick Faldo, asked Fanny to be his caddie. Five months later Faldo had won both The Masters and The Open with Fanny on the bag. This was the beginning of a long and successful career of caddying. In 2007 she started caddying for Henrik Stenson and together they won The Players Championship in 2009. Fanny retired from caddying in 2012, while Henrik remains on top of his career with a win at The Open Championship in 2016 being his greatest achievement.
"Fantastic to be involved in junior golf and this is the perfect way of giving back!"
"It's nice to share our experiences and to see the quality of the young golfers."
Fanny will be on site during the whole tournament and is in charge of the course set up. Henrik will be on site on and off during the week.
Tournament for boys and girls
Stenson Sunesson Junior Challenge is open for 156 players mainly Swedish, with some special invites from the Nordic countries. The field will consist of 60 girls and 96 boys. It's a 54 hole tournament played over three days. The field is divided into two age categories:
Age 13 to 16 (12 girls and 27 boys).

Age 17 to 21 (12 girls and 27 boys).
The winners will qualify to an international event. More information to come.
How to apply
The tournament is open for players born 1997 to 2005 with a handicap of 13,0 or lower for girls and 10,0 or lower for boys. The competitors from Sweden will be selected based on 1) SGF Golf Ranking, and 2) in handicap order. Henrik Stenson and Fanny Sunesson have six wild cards to hand out to two girls and four boys. Maximum number of players is 96 boys and 60 girls. Application will open later.
Player information in alphabetical order
About Barsebäck GCC
Barsebäck Golf & Country Club opened their first nine holes in 1969. Today, the venue consists of two 18-hole courses – the Masters Course and Donald Steel Course – as well as a 9-hole course – Litorina Course. The Masters Course has been the host of many European Tour events, European and World Championships and the Solheim Cup in 2003.
Contact information
Barsebäck GCC – tournament office
Email: info@barsebackresort.se
Telephone: +46 46 77 62 30
Website: www.golf.se/stensonsunessonjc
Fruit and water
Fruit will be served on tee 1 and 10. Water is available on tabs by the club house or next to the first tee.
Golf bag storage
Players will not be able to store their golf bags at the club during nights.
Lodging
Practice round
Monday. More details to come.
Tuesday Happening!
- Clinic with Henrik and Fanny.
Fun things to take part of:
- Activities such as: long driving with Emil Rosberg and World Champion Sandra Carlborg, ball testing, glove and shoe fitting, club testing, smoothie station etc.
Tournament fee and registration
The tournament fee is 800 SEK and will be paid at the front desk at Barsebäck GCC no later than Tuesday 3 July at 10.00.
The tournament fee includes: free range balls, give aways, 1 practice round, 2-3 tournament rounds, lunch Tuesday-Thursday and Friday for those who qualifies.
Pictures from Stenson Sunesson Junior Challenge 2017 at Barsebäck GCC.
Frågor om tävlingen? Kontakta