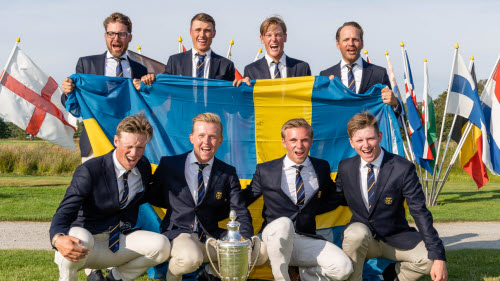 Sweden European Champions on home ground
Sweden is the European Amateur Team Champions for men after defeating England on home ground, Ljunghusen GC. It was 58 years ago Sweden won the championship – also over England!
Sweden have had a good habit this week, to be two up after the fursome. And it looked like it would stay that way in the final as well. But Tom Sloman and Tom Plumb turned three down to victory against Ludvig Åberg and Christoffer Pålsson by winning five holes in a row, 2/1.
David Nyfjäll and Vincent Norrman defeated Alex Fitzpatrick and Matty Lamb 4/3, so it was a draw when the singles started early in the afternoon.
Sweden was mostly in the lead, but when it looked like England was coming up strongly, Pontus Nyholm won 1/0 against Alex Fitzpatrick, Ludvig Åberg won 2/1 against Tom Sloman set the table for the Albin Bergström, 20, representing Ljunghusen GC and followed by a couple of hundred club members, family and relatives the final day.
On the 16th green the match against Ben Jones was over – and also the whole final.
"It was I tight match, it was even after nine, but four birdies later I was in the lead. What a feeling, in front of the home crowd and everything", Albin Bergström explained on the green directly after the match was over.
The Swedish coach Jonnie Eriksson was shining even more than the Swedish summer sun and explained.
"The ball trike was good today, we took good decisions and we were well trained for this mission. Looking of the whole week, our strategy to rotate the team paid off."
"All our players performed fantastic this week, but I must mention Albin Bergströms putter. It has been burning all week."
Sweden has waited a long time for this victory – since 1961 to be exact. It is 58 years. Back then the Swedes beat England in Brussels, Belgium.
Scotland took the bronze medal this year by defeating Denmark with 4-3.
Thomas Björn
Press officer
European Amateur Team Championship 2019
Team photo:
Standing from left: Ola Lindgren, kapten, Ludvig Åberg, Vincent Norrman, Jonnie Eriksson, coach.
Below from left: Pontus Nyholm, Albin Bergström, Christoffer Paulsson och David Nyfjäll.
Photo putting:
Albin Bergström, Sweden putted for his and the hole final match in European Amateur Team Championship at the home club Ljunghusen GC.
Photo: Ulf Nilsson Photo
Fler nyheter