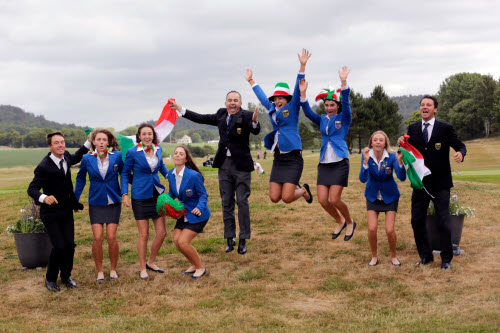 Preview: European Girls' Team Championship 2018
Sweden to defend on home soil
Titleholders Sweden to defend on home soil when European Girls' Team Championship gets under way at Forsgårdens Golf Club this week July 10-14.
This is the third year in a row that national girls team from all over Europe are traveling to a Nordic country for the European Championship. In 2016 it was Oslo Golf Club in the capital of Norway that provided the battling grounds and last year it was Finland, the land of thousand lakes, and St Laurence Golf just west of Helsinki that did the same.
This year the European Girls' Team Championship will be played on the Masters Course at Forsgårdens Golf Club, a parkland golf course and host venue of the Scandinavian Masters on the European Tour in 1993 and 1996.
Sweden vs. Italy times two
Both the previous two years it has been Sweden and Italy in the final on Saturday playing for the title. Italy won in 2016 and last year it was Sweden that grabbed the gold.
But all that are now just history when teams are preparing for this year´s championship at beautiful Forsgården Golf Club in Kungsbacka at the west coast of Sweden.
History of the championship
This is the 24th time that European Girls' Team Championship are being played. The inaugural championship was also played in Sweden at Hulta Golf Club less then an hour drive from where this year´s championship is held.
Spain won the first two championships and have won a total of seven only surpass by Sweden with eight championships to their credit.
More than just playing golf
A European Championship is more than just playing golf for the players. It´s representing your country, wearing national team uniform, posing for official photos, going to opening ceremony hearing your national anthem being played for you and your team mates and wishing that it will be played once more at the closing ceremony when you and your team is crowned European champions.
Sweden to field in form rookies
Sweden coach, Carl Gustavsson, have six rookies on his rooster for this championship. No one have ever played in a European team championship before, but they have played some good golf coming in to the championship.
Three players; Kajsa Awefjäll, Ingrid Lindblad and Andrea Grimberg-Lignell did bring home bronze medals from the Toyota Junior Golf World Cup played mid-June in Japan.

Before that, both Kajsa and Ingrid has won international tournaments this season. Kajsa finished on top at the Irish Girls Open Stroke Play Championship winning by one stroke ahead of Swedish team mate Louise Rydqvist.
Ingrid did capture the German Girls Open in early June and did also finished runner up at the ANNIKA Invitational Europe just a few weeks ago. And last week both Ester Fägersten and Andrea Grimberg-Lignell won their respective division at the Stenson Sunesson Junior Challenge.
Winning the ANNIKA Invitational Europe in grand fashion was Anna Zanusso from Italy. She finished the tournament with four straight birdies and almost holed out for a hole-in-one on the last to win by three strokes ahead of Ingrid.
It looks like the last two years finalist teams and champions are in good shape going in to this year´s championship.
However, it´s a lot of golf to be played before any champions for 2018 are decided and there are 17 other teams besides Sweden and Italy. And they will all do their best to finish on top and get gold medals hanged around their necks on Saturday afternoon at Forsgården Golf Club.
The Format
The championship is played over five days. The first two rounds are stroke play qualifying were each team plays six players counting five scores as the team score.
After two rounds the top eight teams goes on to play for the championship in match play. The stroke play will determine the seeded order for the match play with 1 vs 8, 2 vs 7, 3 vs 6 and 4 vs 5.
The other teams that did not made the championship rounds plays on as well. They are playing for places and pride; this part is also decided in match play.
Game On
Game on tomorrow Tuesday with the first ball in the air at 7:30. Links below for draw, live scoring and pictures.
Draw day 1.
https://www.golfbox.dk/livescoring/tour/?language=2057#/competition/1644742/teetimes
Live scoring.
https://www.golfbox.dk/livescoring/tour/?language=2057#/competition/1644742/leaderboard

Pictures
All images are free to use both on web, social media and in print in relation to reports or posts related to this championship. Images to be credited to Goran Soderqvist.

Picture from practice round and opening ceremony to be found here.
Practice Day 1
https://www.flickr.com/photos/goranphoto/albums/72157668910777087
Practice Day 2 and Opening ceremony.
https://www.flickr.com/photos/goranphoto/albums/72157668941263647
----------------------------------------------------------------------------------------------------------------------------
About the venue
Forsgården Golf Club there are 27 beautiful holes of golf situated only five minutes by car from the center of Kungsbacka. The 2018 European Girls' Team Championship will be played on the Masters Course, a parkland golf course and host venue of the Scandinavian Masters on the European Tour in 1993 and 1996.

About golf in Sweden
Sweden have 457 Golf Clubs. These golf clubs have 468.570 golfers as members and they are also registered to the Swedish Golf Federation. In 2017 6.962.000 rounds of golf were booked in Sweden, 33 073 new memberships were signed to Swedish Golf Clubs and the net growth of players were 4.618.

Sweden is a contender where ever there are golf being played. Six different Swedish players have major championships to their credit with a total 16 major championships. Swedish players also have 116 wins on the LPGA, 87 wins on the LET, 26 wins on the PGA Tour and 110 wins on the European Tour.
Fler nyheter