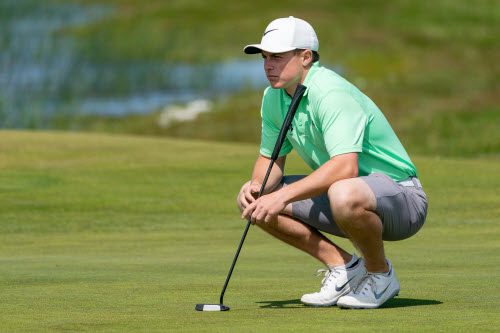 Island countries dominate European Amateur Team Championship
Ireland, England, Scotland, Sweden, Germany, Spain Wales and Denmark will play about the medals in the European Amateur Team Championship for men Thursday to Saturday.
Ireland keep on playing better and better – every player perfomed par or better in the strong wind Wednesday - and finished first after two days of stroke play, before England, Scotland and Sweden. Conor Purcell shot 68, best in the Irish team, and said while the wind was playing with his hair.
"It was good but tricky conditions out there, even if it was a little less wind than yesterday afternoon. I got of to a quick start, was four under efter nine, kind of costed it in and finished with a birdie.
Euan Walker, Scotland, followed up a 67 Tuesday with a 65 Wednesday: Eight birdies and one bogey – and almost an eagle on hole numer ten.
"I had a great teeshot, took a five iron and the ball almost went in the hole, but it was a short put for birdie," Walker said.
The Scottsman round is the best in the team championship this year and just two behind Luke Donalds course record (63) from 2001 European Amateur Team Championship. On the other hand, the course was played as a par 71 during the big tournaments back then, so 65 is "kind of" a new course record.
Denmark took the last place in the A-flight after France last player put two balls in the water on the last hole – and the danish player made a birdie.
The medal flight A is played as follow:
Ireland-Denmark
England-Wales
Scotland-Spain
Sweden-Germany
The winners play on for the medals Friday, the loosers play on for the positions 5-8.
Thomas Björn
Press Officer
Fler nyheter