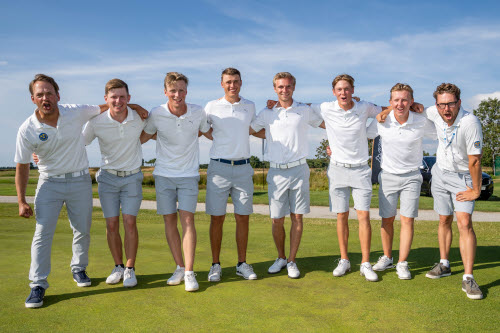 England up against Sweden in the final
England and Sweden are playing the final in the European Amateur Team Championship at Ljunghusen GC Saturday.
Sweden played Denmark in the semifinal and England took on Scotland.
Sweden-Denmark is normally a tight match, but this Friday the Swedes had decided to make it to the final. Just as in the quarterfinal against Germany they were two up after the foursome. The key match was Pontus Nyholm and Albin Bergström who were two down on 17th tee but took the game to play off with two birdies in a row – and while having the steam up they finished with a third one. Albin Bergström putted them all in.
The Swedes didn´t lose the grip in the singles. Vincent Norrman won by 5/4 against Rasmus Neergaard-Petersen and Pontus Nyholm ended both his match against Hamish Brown and the semifinal against Denmark by a two put on the 15th green.
"I´m very pleased with the focus and good decision making today, but we need to step up even more against England tomorrow if we are serious about the gold medal – and we are!" the Swedish coach Jonnie Eriksson says.
The England-Scotland match where much more even. England was two up after the foursome, but after Sandy Scotts win over Tom Sloman, 6/4, and Euan Walkers win over Alex Fitzpatrick 1/0, the game was on for Scotland again.
England answered with two wins though - Tom Plumps 3/2 over Scotlands James Wilson and Harry Halls 3/1 against Jamie Stewart – and made it to the final.
The final Saturday will be broadcasted over the European Golf Association web.
Thomas Björn
Press Officer European Amateur Team Championship 2019
Fler nyheter