ANNIKA Invitational Europe
Welcome to Annika Sörenstams annual international golf tournament for elite girl golfers. Part of the R&A World Amateur Golf Rankings.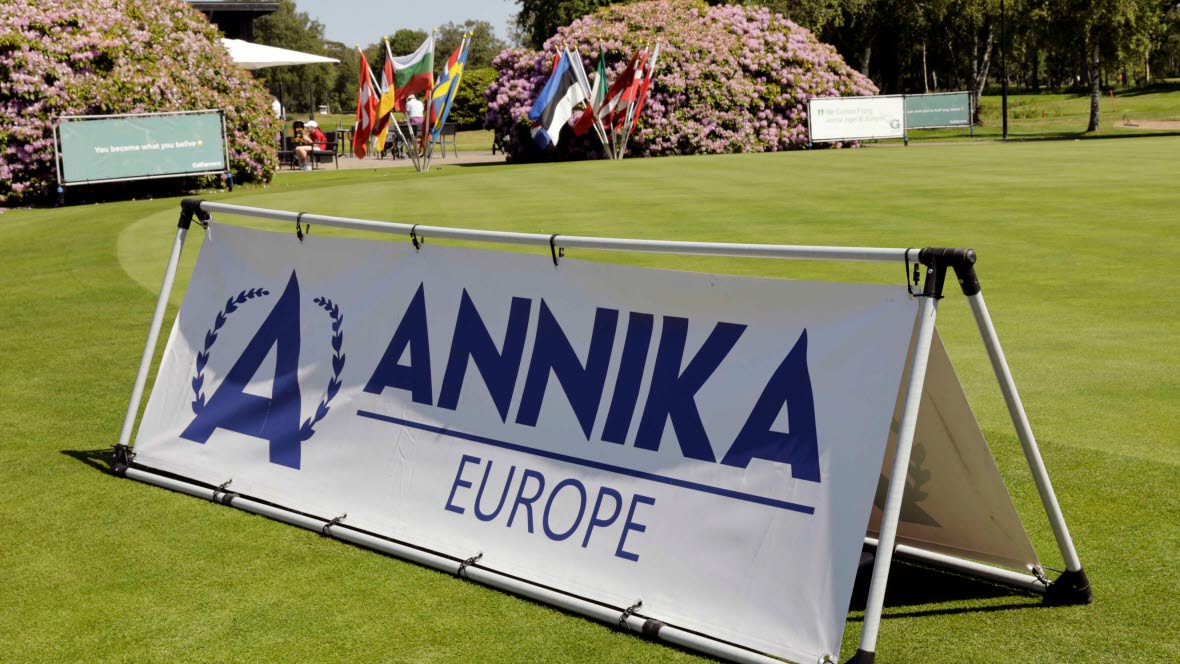 Swedens most successful golfer of all times, Annika Sörenstam, will be hosting, following and conducting the tenth ANNIKA Invitational Europe on site.
Annika Sörenstam is a winner of 72 official LPGA tournaments including ten majors, and has represented Europe in the Solheim Cup on eight occasions between 1994–2007.
ANNIKA Invitational Europe 2023 will be hosted on June 13–15 at Halmstad Golfklubb.

Tee Times Round 2
Leaderboard

Official Notice Board

Photos From The Tournament (on Facebook)

Halmstad Golf Club

Date & Venue

June 13 - 15, 2022 at Halmstad Golf Club.
Website: https://www.hgk.se/
Email: aie2023@hgk.se
Phone: +4635-17 68 00

Format of play

Strokeplay over 54 holes, 18 holes on each day of the tournament, no cut.

Qualifying spots

ANNIKA Invitational USA presented by Rolex

The top three finishers, who have not reached their 20th birthday AND have not graduated high school as of January 1, 2024, will receive an invitation.

Awards

The ANNIKA Invitational presented by Rolex has won 7 awards out of the 13 years it's been played, from the AJGA. The first edition was honored as the Newcomer of the Year and the 2010 even received the Invitational of the Year. The tournament has also won two Media Awards, two Social Media Award and a Volunteer Award.

Cooperation with the AJGA

The AJGA has committed to provide the top finishers with "playing status with the AJGA". This status will enable these finishers to gain entry into some AJGA events.

A. Participants must be female and born 1st of January 2005 or later.

B. All participants must be an amateur golfer in accordance with the Rules of Amateur Status as approved by R&A Rules Limited.

C. The maximum handicap limit is -4,4.

D. The field will be limited to a maximum of 78 players.

The field will be decided in the following order:

Invitees - The top 48 players on the R&A Womens World Amateur Golf Ranking, published week 1 2023, and who also represents a country that is a member of the European Golf Association will be invited. The closing date to accept invitations is May 1th.

Exemptions - The ANNIKA Foundation and the Swedish Golf Federation will retain six places each - i.e. a total of twelve players.

Open entries - Places will be given to players in order of:

A. Ranking from the R&A Womens World Amateur Golf Ranking (May 1th)
B. SGF Golf ranking
C. Handicap

Open entries will be accepted in the above order regardless of country representation.

Minimum number of open category entrants is 18.
Entries must be submitted no later than May 1, 2023.

The R&A is supporting the 2023 ANNIKA Invitational Europe. The R&A's generous financial contribution has substantially reduced the tournament entry fee for each player, providing added benefit and helping grow the game.

Entry fee 2023 is 1000 sek

Entry fee will include:

Front row seat on Annika clinic on Tuesday afternoon June 13th
- Two practice rounds and three tournament rounds
- Five lunches
- Two dinners (opening dinner Monday June 12th and dinner on Wednesday June 15th)
- Fruit and drinks on the golfcourse
- Tourguide (Strokesaver)
- Trolley
- Unlimited practice balls on the driving range
- Transportation to and from Landvetter Airport upon arrival and departure on request
- Wireless internet in the clubhouse
- Workshops on Wednesday afternoon June 14th

The top 48 European players born 2005 or later on the R&A Womens World Amateur Golf Ranking, published week 1, 2023 will be invited. The list of invited players will be published in February. The closing date to accept invitations is May 1th 2023

| Name. | Country. |
| --- | --- |
| Alba Gonzalez Fernandez | SPAIN |
| Alice Kong | FRANCE |
| Andrea Revuelta Goicoechea | Spain |
| Anna Canado Espinal | SPAIN |
| Antonia Johanna Isabella Steiner | GERMANY |
| Balma Davalos Guaita | Spain |
| Benedicte Brent-Buchholz | DENMARK |
| Carla De Troia | FRANCE |
| Cayetana Fernandez Garcia-Poggio | Spain |
| Claudia Lara Miravitlles | SPAIN |
| Constance Fouillet | FRANCE |
| Daniela Campillo Martinez | SPAIN |
| Denisa Vodickova | CZECH REPUBLIC |
| Elizaveta Sofia Reemet | ESTONIA |
| Emma Alessia Delwes | GERMANY |
| Emma Falcher | FRANCE |
| Ines Archer | FRANCE |
| Johanna Paula Axelsen | DENMARK |
| Josefin Widal | SWEDEN |
| Julia Ballester Barrio | SPAIN |
| Julia Sanchez Morales | SPAIN |
| Katie Poots | Irland |
| Kristina Lebova | CZECH REPUBLIC |
| Lara Ok | Germany |
| Lili-Rose Hunt | ENGLAND |
| Lynn Van Der Sluijs | Netherlands |
| Maggie Whitehead | ENGLAND |
| Maria Bastarrica | SPAIN |
| Marie-Agnes Fischer | GERMANY |
| Martina Lopez-Lanchares Echezarreta | SPAIN |
| Matilda Björkman | SWEDEN |
| Maylis Lamoure | FRANCE |
| Meja Örtengren | Sweden |
| Moa Stridh | SWEDEN |
| Natalia Fiel Ros | SPAIN |
| Nora Sundberg | SWEDEN |
| Paula Francisco | SPAIN |
| Paula Martin Sampedro | Spain |
| Perla Sol Sigurbrandsdottir | ICELAND |
| Rocio Tejedo | SPAIN |
| Rosie Bee Kim | ENGLAND |
| Sara Brentcheneff | FRANCE |
| Savannah De Bock | BELGIUM |
| Sofie Hlinomazova | CZECH REPUBLIC |
| Vairana Heck | FRANCE |
| Valentine Delon | FRANCE |
| Victoria Georgieva | BULGARIA |
| Viola Kruse | DENMARK |

Accomodation:

The official hotel is Tylöbäck Hotell & Konferens

Telephone: + 46 35 19 18 00

Email: info@tyleback.com

Special rates are negotiated, and to get access to the negotiated rates you have to make your reservation no later that the 12th of May.

Hotel Rooms (incl. breakfast)

Single room: 1.295 SEK/night

Double room: 1.895 SEK/night

Hostel Standard Rooms (excl. breakfast and linen)

Single room: 895 SEK/night

Double room: 1.095 SEK/night

(Linen and breakfast can be added at an extra cost)

Official airport:

Transportation

Transportation to and from Göteborg Landvetter Airport upon arrival and departure on request and official hotel/golf club.

Sunday 11 June: First practice day

Monday 12 June: Junior-AM and Second practice day

Tuesday 13 June: First round and Annika clinic (starts at TBA).

Wednesday 14 June: Second round, Seminars

Thursday 15 June: Third round and prize giving ceremony.

"More Than Golf" has been a guiding principle of the ANNIKA Foundation since its inception in 2007.

At each of our global events, we bring in speakers and develop workshops to extend the experience beyond just the golf course.

The Foundation recognizes the importance of well-rounded individuals and strives to leave a lasting impact on each and every player.

ANNIKA Foundation

In 2009, the ANNIKA Invitational USA presented by Rolex was the first event founded by Annika in the Foundation's series of global events. Now, the tournaments span five continents including Europe, Asia, Latin America, North America and Australasia.

The top three players from each international event are annually invited to the ANNIKA Invitational USA presented by Rolex the following year.

Linnea Ström, winner 2012, and Annika

When developing her idea of what the ANNIKA Invitational would be, Annika was determined to include initiatives that supported the Foundation's slogan "More Than Golf." She wanted her invited participants to leave the week with something more than just a three-round aggregate score.

Annika's experience has taught her that it takes more than a good golf swing and putting stroke to be a winner on the competitive tours. That's why she includes leadership and life-skill workshops that take place during tournament week to allow the girls to ask questions and learn what it will take to be successful in their career.

Final results:



2019
2018
2017
2016
2015
2014
2013
2012

Click here to read about the ANNIKA Invitational on Annika Foundations websit
Hjälpte den här informationen dig?